Maungoodhoo
It is an island-level administrative constituency governed by the Kelaa Island Council. It is situated 400km west of Trivandrum the capital city of the Indian state of Kerala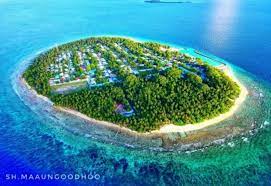 ---
It is an island-level administrative constituency governed by the Kelaa Island Council. It is situated 400km west of Trivandrum the capital city of the Indian state of Kerala          
The main occupation of the people of Maaungoodhoo is fishing, carpentry and construction. In addition, youth of the island are employed in tourism sector to earn an income. Women in the island also have a significant contribution to the income generating efforts from fishing. Women also earn an income by weaving coir ropes and palm weaving.
Details of a famous person from the island.
Ali Zakariyya
(Mudhinbe), Karanka Villa was a mudhim who is retired now. He teaches Quran to kids. He is also a carpenter who has been doing carpentry for 58 years.
---